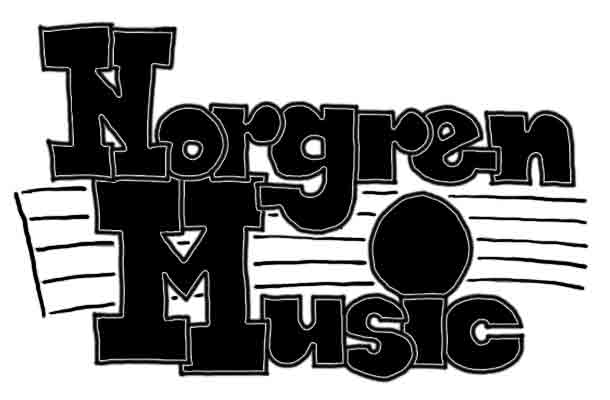 50 years later – the story
1972-1975
The story of this band started in the spring of 1972. This was a year before I was going into the compulsory military basic training that we had back then in Sweden. During the two-day mustering process, I met Olof Hellberg. We had been in the same schools since we were seven years old, but had never been in the same class. I knew that he played the drums, he knew that I played the piano. We started to talk about playing together. He had been playing with a couple of friends that he had known since kindergarten.

The two friends were Erik Samuelsson who played guitar and banjo and was a good singer, and Magnus Jäderberg who played bass. Both double bass and electric. Magnus lived with his parents just a few hundred meters from my parents' house. And they had a Bechstein grand piano in their living room!

A note on our parents: Both Magnus's and my parents had the patience of angels. They let us invade their homes with rather loud instruments, which is very much a reason that we could start this band!

During the spring of 1972, Magnus and another guy who had been in one of Olof's former bands, were involved in rather critical accidents with mopeds. Both of them were taken to hospital and by chance, ended up in the same ER room. Bandaged up to their ears. They started to talk and realized that they knew each other. The odds for that is like… well, buy a lottery ticket… anyway, when Magnus was discharged from the hospital, we met in his living room, where we rigged our equipment.

Back then, I was very much into Keith Jarrett and by ear, had managed to get the melodies and chords to a few songs from the fantastic album 'Gary Burton and Keith Jarrett'. Among them 'Fortune Smiles' and 'The Raven Speaks'. We went into them like tight-rope walkers without security nets. Sometimes I think we sounded quite good. Unfortunately, this was so long ago that we had no equipment to make any recordings. Or maybe i should say fortunately… yeah, fortune smiles... :-)

And yeah, we played jazz in different styles. Keith Jarrett and some original music. Both Erik and myself had started to write music quite early. My first 'real song' was 'Bosse's Samba' which we recorded much later. You can listen to that version here:
Bosse's samba

Written in the early 70's and recorded in 1977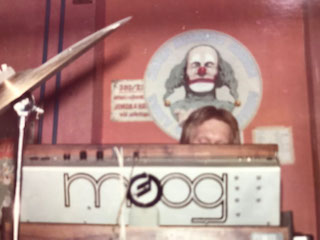 I said jazz in different styles. We also played Trad Jazz and frequently visited the music pub Bullerbyn. This was the center of the music scene in Stockholm in the beginning of the '70:s. A basement under the old market hall at Kungsgatan in Stockholm. Every Tuesday, they had a Trad Jazz jam. You went on stage and played a few songs and were rewarded with a pint. Different constellations all the time, different musicians playing different styles. As a piano player, I tried to make myself heard playing an un-amplified upright piano. This ruined my chops. Or rather made me a piano karate player. I had to hit the keys so hard that when I later started to play electric pianos, I ruined the tone bars.
The most odd instrument that turned up on that stage, was a Sousaphone. Basically a Tuba that you wrap around your body. Every time the owner got on stage, people shouted, 'Flight of the Bumblebee'. Very funny! Probably impossible to play on that instrument.

During this period, Mange met a couple of horn players at a High School graduation party. Their nicknames were Kassen, who played the trombone, and Detleff, who played the trumpet. With this band, we rehearsed in Kassen's basement. We played at a garden party in his neighborhood and also at Magnus's party when he graduated from High School. I remember us as a New Orleans-style marching band, Erik playing the banjo and myself having a 26-inch bass drum strapped to my chest. This was in the spring of 1973.

We also had a Trad gig at a student pub close to Stockholm University. The pub was located at Lappkärrsberget and was called Lappsus. Which is a pun. 'Lapsus' means mistake. I remember yet another of those upright pianos, this one with the top totally covered with beer glasses and bottles. And when I started my karate session at the keys, the entire piano started to wobble back and forth. The miracle is, I didn't get drowned in beer.

In 1973, I started to play with another band, Freja. The personnel was Cary Sharaf el-Din on guitar, Björn Netz on sax, Göran Svensson on bass and Björn Wetterborg on drums. We landed a gig at the legendary pub Stampen in the Old Town of Stockholm. This went so well that we were invited to come back for another gig a few weeks later. In the meantime, Björn 'Nalle' Wetterborg quit the band and was replaced by the legendary Åke 'Dr Åke' Eriksson on drums. To be diplomatic, Åke hit the drums a bit harder than Nalle… between two songs, a guy patted my shoulders. He said, 'Hey, could you turn the volume down a bit? We're playing in the basement club and to be frank, we can't hear what we are playing.' Needless to say, we weren't asked to come back again…

At this point in time, we were moving from our parents' homes into proper rehearsing facilities. First, a wing at the Ulvsunda Castle, later at the top floor of an industrial building, also in Ulvsunda, west of Stockholm.

At first, our 'electric band' was named 'Tensor Tympani'. Olof, our drummer, was studying medicine, and came up with the name. Supposedly, Tensor Tympani is a muscle in the middle ear of a human being. A creative translation is 'Hitting the Eardrum'. Funny but not a name anyone remembered or could pronounce. As soon as Freja was discontinued and transformed into the legendary fusion band 'Wasa Express', I recycled the Freja band name and made it ours. I mean, I came up with it in the first place. By the way, Freja is the name of the Viking fertility goddess.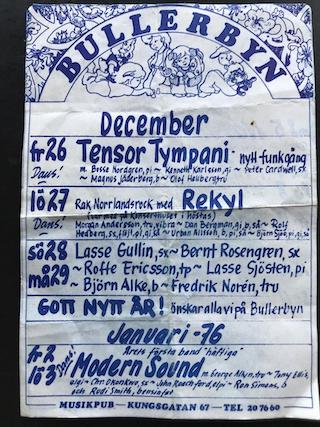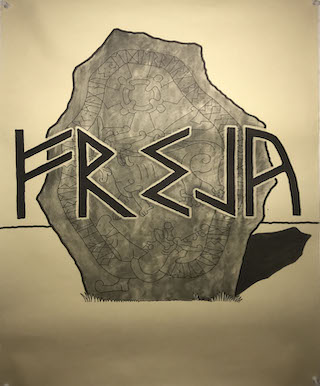 The runes circling around the edge of the stone, say 'Olof Hellberg percussion Magnus Jaderberg bass Bosse Norgren keyboards'.

Freja was the house band when Erik had his house-warming party at his parents' house when he graduated from High School. That party, for me, is lost in the mists of time and beer…

When our band became electric, we moved down from Magnus's living room to their basement and a large, cozy room named 'The Stable'. I remember Erik having a small tube amp which had to be leaning back against the wall, at an angle, due to some kind of a loose contact problem. And again, fortunately no recordings are available from this period. The reason? I became, not a sax player but rather a Tenor sax owner. One time, we started to play the theme of 'The Pink Panther'. The rest of the guys played the theme over and over, while I opened the sax case and assembled the instrument. And well… I never really became a sax player. I tried to remedy this by buying a Soprano sax. And for you who have never tried to play the sax, a Soprano is even harder to play than a Tenor… again, I was inspired by Mr Jarrett, who is very good at the Soprano...


1976-2002
The dark years began in 1976. Erik went abroad and studied to become a hotel manager at a school in Switzerland. He worked abroad for 14 years and returned sometime in 1990. During his time in Switzerland, he inherited some money from his Grandmother. He used all the money to record four songs in a real studio. This was in 1978. Below, we have four songs that are well performed and produced, but sadly enough, the cassette tape has not aged beautifully. There are cracks and short pauses here and there, but you just have to live with that.

Erik's Musical Quest between 1972 and 1976

Erik tells us what happened...
"When I graduated from High School in the spring of 1972, I had my mind set on two things. The first was to apply to one of the world's best Hotel Management colleges. The second to compose and perform music of my own. It took until 1976 before I was admitted to Ecole Hôtelière de Lausanne in Switzerland. In the meantime I spent all my time to succeed in the entertainment business i Stockholm. My plan was to make enough money to finance my studies.
The greatly renowned keyboardist, composer and producer Anders Eljas helped me write all the music annotations and notes of some of my songs and have them registered with STIM.
I started off with 'Back me up', inspired by the feat of establishing myself as a performer and songwriter.
I dedicated 'Daddy cares' to the Hippies living in ancient caves in Crete, bumming food from the neighboring, poor fishing villages and contributing to no one except themselves. I thought the problem was that these spoiled kids just called home to their rich dads and the money flowed in. I saw them as parasites and wrote 'Daddy cares'.
'Eva' was written in Stockholm and tells about lost and unanswered love. However, I got together with her room-mate Inger instead and ended up writing 'Toilet paper poetry at Utö' on the island of Utö in the Stockholm Archipelago. I couldn't find any writing paper so I wrote it down on a piece of toilet paper before leaving for Switzerland.
I realized I missed her so much that I also wrote 'How can I live with you gone?'.
Two years later, in 1978, I ended up using the entire inheritance from my Grandmother for a professional studio recording in Lausanne. My goal was to make the 4 songs heard abroad. I first went to Media Sound in New York, where I didn't have much luck except they recommended me to visit RCA records in London on my way back to Switzerland. I followed their advice, only to hear them say, "Too much middle of the road, Sir!" Well, at least I tried my best and have never felt ANY regrets whatsoever!"
Back me up

Written like in the early 70's and recorded in 1978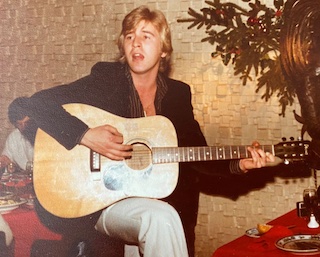 Daddy cares

Written like in the early 70's and recorded in 1978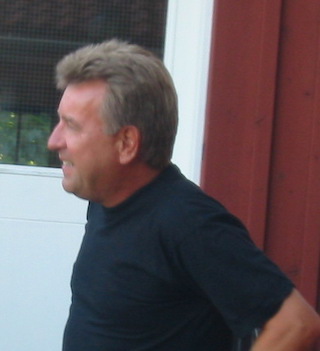 Eva

Written like in the early 70's and recorded in 1978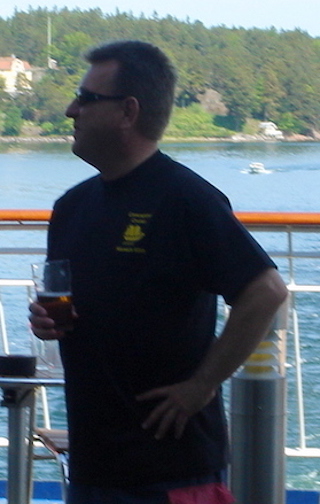 How can I live with you gone

Written like in the early 70's and recorded in 1978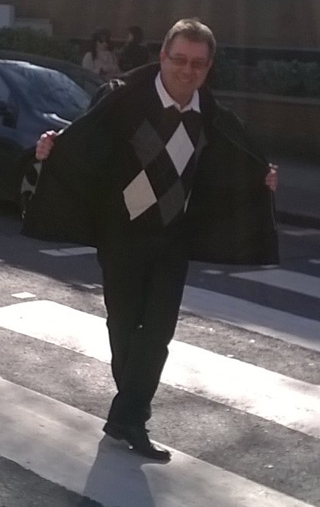 Finding a new guitar player...

With Erik gone, we continued playing with Freja. Erik was replaced by Ken Carlson, a guitarist who, just like me, was very much into music by Chick Corea, Billy Cobham and the like.
According to Magnus, we found Ken when Olof played with a big band where Ken was playing guitar.
We made a recording in a studio in Uppsala in May 1977 and I recently realized I had written a song called 'The dance of clowns'. I had no idea that I wrote it and that it had been recorded. Typical '70:s song in the not so middle-of-the-road time signature of 7/8. I kind of love it…
The dance of clowns

Written like in the mid '70s and recorded in 1977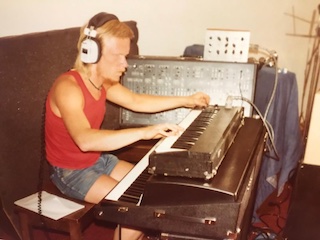 Music by Bosse

The picture was taken when we tried to make a studio recording in San Francisco in 1978. Here, I was playing on and ARP 2600, Josef Zawinul's signature synth and a fantastic instrument.
During these years, we also played with a friend of Ken's. Tony played the sax and we jammed a few times in an old summer house that he rented from the Swedish Church in the Ekerö municipality.

Olof had moved to Uppsala, some 70 kilometers north of Stockholm. He became a fixture in the Uppsala music scene and landed quite a few gigs in student pubs up there. For a period of time, a British flute player joined the band. His name was Hillary Ashroy and he was a good flute player, but he had this thing with sheet music. He simply couldn't play without having the music written down on paper in front of him. One time, at a pub in Uppsala, we went on stage and Olof counted 'one, two, three, four' and we started to play. Hillary drew a deep breath and was going into the theme of the song. At that same second, the bartender felt that he should enhance the air quality in the pub and switched on a very large ceiling fan. Hillary's sheets of music flew all over the place. We had to stop the song and get some clothes pins for Hillary and his papers.

Olof had another friend who played congas. His name was Bosse (just like me) and he was blind from birth. And hence went under the name 'Blind Bosse'. Nowadays not very politically correct. Anyway, once I went to his home to pick him up before the gig. After driving a couple of kilometers, he said, like, 'No, go right at this intersection. It's a shortcut.' Quite scary. I had a totally blind co-driver… and yes, he was right.

San Francisco 1978

In 1978, myself, Magnus and Olof went to San Francisco. Ken had moved there to work for a year at a subsidiary of Alfa Laval where he was an engineer, working with lipids. Later, he has told me he is probably best in the world at getting oil out of different kinds of seeds. We played some music there and actually went into a studio, but nothing really came out of it. At least, we bought some very nice instruments. Magnus laid his hands on a burgundy P bass which he named 'Rosa'. I called my mother and asked if I could borrow some 4,500 SEK which was what 1,000 USD amounted to. And then bought a Rhodes Suitcase which I actually smuggled into Sweden in the container where Ken sent his Pontiac TransAm and some other stuff. Here's a pic from when we rehearsed for the studio session.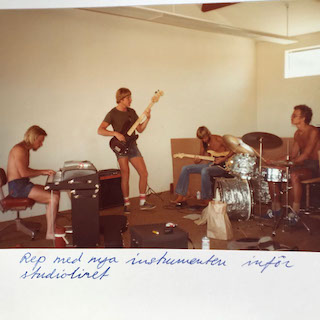 Ken fixed the room at an industrial facility where they were producing some kind of oil products. I don't know if you've ever felt the smell of rotten eggs? That's what the place smelled like. And not like a faint whiff of it. To be frank, we stank of esthers, and drove our cars with the windows rolled down all the way back to Ken's apartment. As you can see, we didn't exactly suffer from cold weather...
2002 wedding gig

After that, long years passed without us playing together. Actually until 2002, when Magnus married his second wife. Myself, Erik, Olof and Ken went to London and we played at the wedding party. You don't see this too often. All of us dressed up in fancy clothes...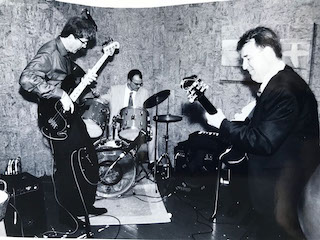 2003-2010
By now, Ken, who had double citizenships (Swedish and American), had moved permanently to the USA. But he regularly came to Sweden every year. And the rest of us started to plan a party. All of us (except Ken) were reaching the honorable age of fifty in 2004. We decided to have a 4X50=200 party! And if four musicians celebrate their 50th birthdays, they play music! So we started to meet in Uppsala to rehearse. And this time, we met in the old studio to record a few songs. Magnus's wife Laine dubbed the recording 'Roll later', another pun. In Swedish, a 'walker' that old people push in front of them to be able to walk, is called a 'rollator'. Hence, 'Roll later'. Thanks a lot for that one, Laine… :-) For the party, Ken came over from the US and played with us.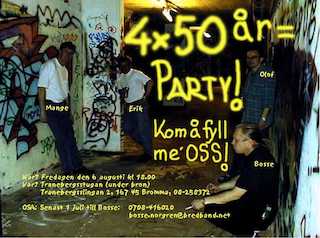 This is our invitation for the party. Shot in a graffiti-ized basement where we rehearsed once.
Thanks for little E

Written in 1989 and recorded in 2003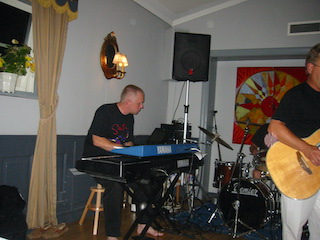 I wrote this one as a tribute to my first-born child.

30 years later

Written and recorded in 2003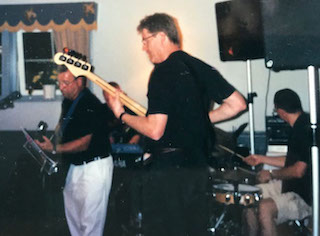 While we were recording 'Roll later', we were staying at Olof's place in Uppsala. After dinner, Erik brought out his guitar and started to play these riffs. I sat down at the upright and we started to jam. The next day, we recorded the song, featuring solos by myself, Magnus and Olof. Another typical example of Erik's ability to create a song (sometimes together with lyrics) just by starting to play

.
Afrodisiac

Written and recorded in 2003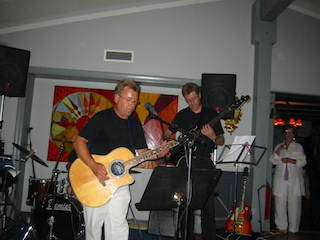 A lovely song in some undefined Caribbean style, where Erik starts to ad-lib some lyrics in some unknown language. Again, typical for Erik.


In the spring of 2004, I bought an allotment cottage west of Stockholm. And to make a long story short, I ended up in a soap opera about the Allotment Iris. In a short sequence, you can see me and Erik jamming in my cottage. So by this time, we sort of were up and running again.


2011-2020
In 2011, I moved to Ekerö and was lucky enough to have a large room in the basement that I could use as a studio and rehearsing place. Erik came there in July 2012 and him and me recorded one of his old songs, 'Toilet paper poetry at Utö'. The story behind this is that he and a girl ended up all by themselves at the island of Utö in the Stockholm Archipelago. In the morning, he came up with this song but didn't have any paper to write it down. So he used toilet paper. In my life, I've come to love a few songs more than others. Purple Rain by Prince is one of them. Little Willie John by Peter LeMarc is another. And Erik's Toilet Paper Poetry certainly holds its place in the top ten list.
Toalettpapperspoesi på Utö (Toilet paper poetry at Utö)

Written in the mid 70's and recorded in 2012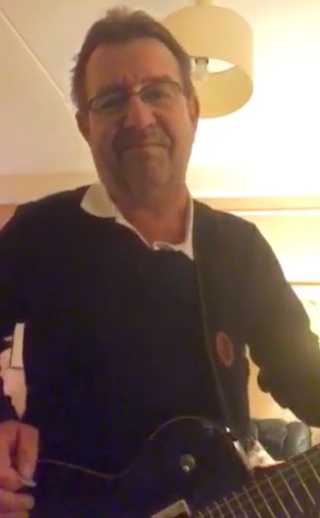 A song that gets me in the mood that you get when sitting in a small rowing boat, moving with the lazy waves.

One and a half years later, Erik returned. We recorded his song '4X50 makes 200'.

4X50 makes 200

Written in 2003 and recorded in 2014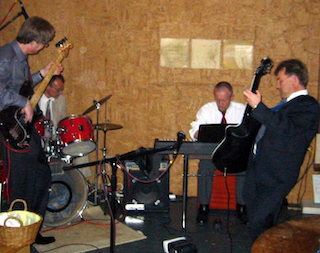 This one, he made up when we were rehearsing for our 50:s birthday party. Erik found an acoustic guitar and I sat down at the upright. Nowadays without the karate chops… Erik has a fantastic ability to start playing a riff and then come up with the lyrics as he sings them. That happened there and then.

It's about how we started out some 50 years ago. Jamming it all in Magnus's and my parents' houses in Ålsten.
2021
Since then, we have met and jammed in my basement a few times. No serious stuff, just having fun. But then I separated from my wife in the end of 2020 and moved to a one-story villa a few miles from the house with the basement studio. My new home has no basement, but a former bedroom converted into a dedicated music room. And this is where I have my studio/rehearsing facility. Since then, we really have got things rolling. Kind of, 'Roll Even Later'…

When we recorded before our 2004 birthday party, we called ourselves '30 years later'. This name is derived from the old band 'Ten years after'. But the years pass and now we are '50 years later'. Yeah, folks. In 2022, it's fifty years since Olof and I met at the Military Muster proceedings. And that, I can tell you, is mind-boggling…

In 2021, we became very creative. It started off with Erik bringing up a really old song that he wrote in 1968 together with his brother. It's called 'Time is precious'. Which, of course is what we're feeling now when time is getting short on us. Use whatever you've got while you still have it…

In the spring of 2021, Erik came to my new studio and we recorded the first version of his old song. It was very much improvised and a bit un-structured.
Time is precious

Written in 1968 and recorded in 2021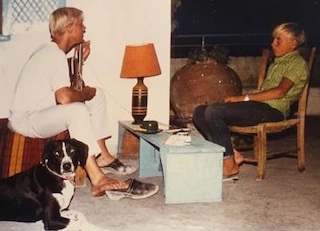 Music by Erik and his brother Bertil and lyrics by Dr E M Fraser

In 1968, Erik, his brothers and their parents were living in Bellapais in Northern Cyprus. The picture was taken on the roof terrace and shows Erik and his brother Bertil composing 'Time is precious'. Dr Fraser, who wrote the lyrics, was a friend of Erik's parents. He was also a personal friend of Joan Baez, the famous singer/songwriter. She is supposed to have recorded the song sometime around 1970. Erik and Bertil still feel very honored that Fraser gave them his text.
This is the soft, camp-fire-with-an-acoustic-guitar version, featuring only myself and Erik. Erik sings and plays the guitar. I play the bass and some organ and actually sing harmony.

Then, a couple of months later, Magnus joined us and we made another version which we called 'Time is precious – funk ballad'. More worked-through.
Time is precious – funk ballad

Written in 1968 and recorded in 2021, video produced in January 2022

Music by Erik and his brother Bertil and lyrics by Dr E M Fraser
On this one, Erik also sings and plays the guitar. Magnus plays the bass and I play the Viscount Legend '70s piano and the Legend organ. And no, I haven't started to play sax. The solo was played with a Tenor sax sound on my ROLI Seaboard. There's also some percussion egg shaking that I think I could be responsible of.

Munk

Written and recorded in 2021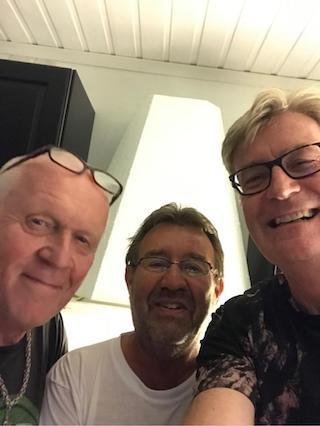 Music by Magnus and lyrics by Erik

In the long, hot summer of 2021, Magnus and Erik joined me in my home studio again. It was a very long time ago that Magnus presented any original music, but here he arrives with no less than two new songs. The first one, 'Munk', is a funk number that I thought would be instrumental. But he arrived before Erik and when he did, he told me that, 'Erik is in for a surprise. He will rap on Munk'. And true to his reputation, Erik came up with fantastic lyrics. 'Munk' in Swedish is 'Monk' in English. So his lyrics is about, well, Catholic monks committing sexual abuse against choir boys. To put it not so diplomatically… a fantastic endeavor according to me.
Here's Erik's ad-lib lyrics:
Funky Monk, stop misbehavin'.
Choir boys, are not for you.
Stop chasing them in Eden's garden'
Rinse your soul, from Devil's temptation.
You ought to go to the persecation! (Here, Erik invented a new word: A mix between 'persecution' and 'accusation')
Mellow

Written and recorded in 2021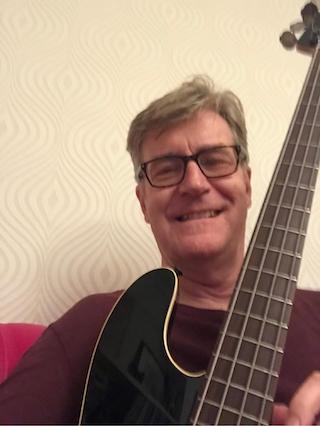 Magnus's second song is a down-tempo ballad called 'Mellow'. This is the instrumental version. Here, Magnus actually plays both the piano and the guitar (something he's never done on any of our recordings) and I can be heard on my fretless P-bass. Plus a 'vibraphone' solo and a bass solo. So, the bass player plays piano and guitar and the piano player plays the bass. Quite funny!

Mellow – Natalia

Written and recorded in 2021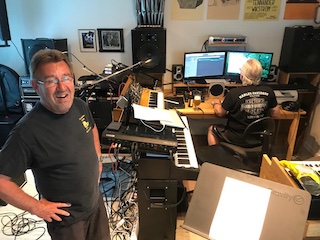 Music by Magnus and lyrics by Erik

Erik had listened to Magnus's sketches of the song and came up with lyrics, dedicated to a loved one. The same solos can be heard on this version.
Daddy cares

Written in the early '70s and recorded in January 2022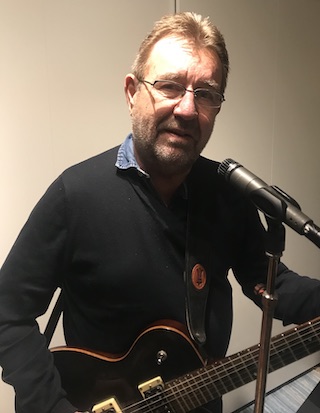 Well

,

considering the poor sound quality of the old recordings that Erik did in Lausanne, Switzerland, in 1978, we thought we'd make a new, fresh version. Said and done! Erik arrived at two thirty in the afternoon and immediately started to prepare dinner. Slow-cooked lamb with a lot of vegetables and Moroccan seasoning. He kept it simmering in a clay pot for 2,5 hours. While that was cooking, we were cooking in the studio!
Erik played an acoustic six-string through his Roland Acoustic Chorus amp, which we miked. Old-school! He also plays electric guitar during my 'Shakuhachi flute' solo. He's singing on two channels, one of which is a little on the Leonard Cohen-ish side...
Keyboard-wise, I played only Logic plug-ins. One Rhodes piano and the Japanese flute. Plus a Hammond clone and of course the Drummer plug-in. And the bass is my red SX P-bass with the fretless Fender neck.

I've heard the song a lot of times but have never really listened actively to the lyrics. While Erik recorded, I read the text and it's incredibly sad. About rich kids whose fathers 'invest in them' but they don't get the love that they really crave for. He wrote it some 50 years ago but unfortunately, it's probably still very much up-to-date. Maybe even more so...

And yes, dinner was incredible. Erik had one serving, while I had two. I normally don't eat that much but it was so good that I couldn't help myself...