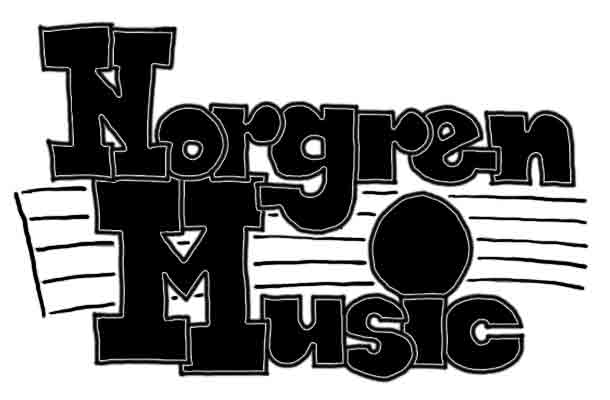 Norgren Music? Simply Music by Norgren... (and friends)
Welcome to the Norgren Music home page. Here, you can read about Bosse Norgren, listen to old and new versions of original music. And yes, I've recently started to add a few cover songs after asking the Swedish organization STIM, who take care of composers' immaterial rights. According to them, it's perfectly okay to publish covers as long as you credit the composers and lyrics authors.
Note:

By now, there are quite a few versions of my tune 'Svensk sås'. Apart from the ones I have made, there are several others out there. So I've collected

the ones that I found and put them in a special section at the top of the 'original music' page.

Erik and I made a new version of his song Daddy cares. Can be found under the '50 years later' link.

Another old sin from me, Coffee break.

A new song by Peter, Bubbles.

On the 'links' page, I've added links to Peter's music on Spotify and YouTube.

Me and Erik have produced music videos for Sueños de Varadero and Time is precious - funk ballad.

A big change has taken place. A new link is to the right if you look above. It's called '50 years later'. Enjoy...

I've also added four songs that are in the 'Schlagers' section on the 'original music' page.

Yet another of my old songs, 'Blues for Bob', which Peter and I recorded around New Year's Eve 2021.

My friend Peter and I recorded one of my old songs, Star eyes. I've also updated the 'gear' page. Plus, I've added a few songs by other artists.

Peter wrote a new song, 'Fever', which we recorded in December 2021.

A new song by my old friend Magnus, was recorded in my studio. The title is 'Munk'. Read all about it...

Stratish, my tribute to Billy Cobham, was posted on 2020-12-27.

I've posted a live recording with CrossBreed, one of the bands I play with.

I've posted the entire Tonkraft live concert with Monica Törnell's New Band from 1977-11-30.

We've made a music video of my son's version of the megahit 'Dance monkey'.

I've updated the 'gear' page and added dates for composing and recording for the songs on the 'original music' page.




My now nine-year-old son recently found his way into my basement studio and recorded covers of two songs...





Why haven't I ever written a Christmas song? I asked myself in December. So here it is...



First tune on the new year and in the new decade: A new one called 'Stings like a bee'.

And on the 28th of December, I finished the re-recording of 'Castaneta'.

On Christmas Day 2019, I re-recorded another old sin, 'Hardbop'.

Two old sins have been breathed new life into: 'Goats in space' and 'Another time'.

A new sub-page has been added. It's called 'PB-50 mod' and there, you can read and look at pictures about how to modify a bass guitar.

Yet another oldie, 'Vettvillingar' or nowadays 'Madmen'.

An old tune, 'The harmonica player's nightmare' in a new version. I have a list with quite a few oldies that I'm going to re-record!

A new song called 'Killing the innocence'.

I recently bought a new Clonewheel organ, a Viscount KeyB Legend! When I sat down to practise left-hand bas, a riff evolved and later turned into a new song, 'Absolutely nothing'. You can read all about it and listen to the song under the 'original music' link.

Then there's a song that has the rather long title, 'For the better discovering and bringing to justice' and was written by my friend Vic Baines. Read more and above all, listen to it, under the 'original music' link.

A while ago, I also made a new, very fast version of 'Svensk sås'. There are two different mixes. The reason for this? Read all about it under the 'original music' link above...

Also, most of my songs under the 'original music' link are available on Spotify, YouTube, Apple Music, iTunes and a bunch of other services like that!